The Ray Diving Company was founded in 1999 to offer a complete set of recreational diving services. Since it establishment, it operates as a diving club that organises many interesting activities for its members.
The main activity of the Ray Diving club is diving training. This international diving school has two subsidiaries in the Czech Republic (in Prague and in Cheb), offering all possible diving courses. Each year, around 100 divers successfully complete the courses.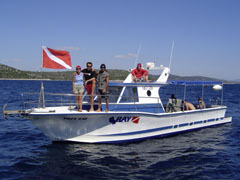 In 2000, we opened a summer centre in the Croatian town of Tisno (middle Dalmatia). Here, you can dive with us in the beautiful waters of the Murter Sea, including the Kornati National Park. We offer both individual dives and convenient diving packages. Diving equipment can be rented in both cases. The diving centre in Tisno operates from the beginning of May till end of September.
In 2006, the RayDiving club launched more diving possibilities in the new diving centre in Norway. If you have already dived in Croatia and Egypt and you would like to try something new or if you are attracted by Norway, this is the right opportunity for you.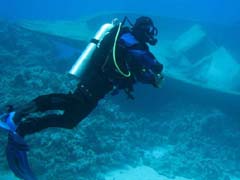 For the parts of year that we are not in Croatia or in Norway, we organize diving expedition to warm seas. Some are in form of holiday stays with diving (Egypt - Dahab), others are in form of a safari (Egypt - the Northern and Southern Safaris, Croatia - Southern Safari).
The RayDiving offer its members full services for recreational diving, including sale and/or purchasing consultancy of diving equipment from renowned companies, such as Poseidon, Mares, Technisub, ScubaPro, Suunto, Bare. We can also provide maintenance and servicing of diving equipment, including testing and filling of diving tanks.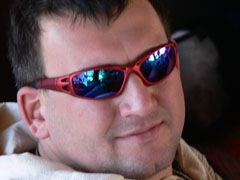 The chief instructor of our diving club is a long-time diver Karel Zámečník, who started with sport diving already at the age of 11. Since 1990, he has also acted as a working diver, gathering vast experience in all aspect of professional diving. In 1999, he became a diving instructor. He has reached the highest possible qualification within the framework of the SSI International Diving School training programme - the DiveCon Instructor.
In March 1999, he launched the RayDiving club that encompasses activities of a diving school (i.e. training courses for all levels of diving),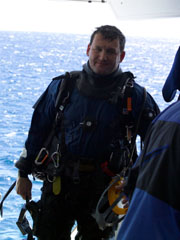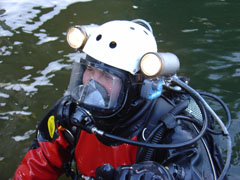 operation of diving bases in Croatia and in Norway, diving equipment sale and rental, organizing diving tours and regular Sunday meetings of divers in a swimming pool in Cheb.
Since 2003, Karel Zámečník has also been an instructor of the IANTD School, which in addition to sport diving courses offers technical diving courses.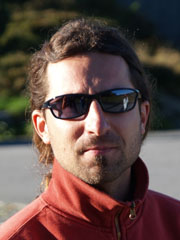 The chief Divemaster of the RAY DIVING Company is Tomáš Uchytil (33) who started with diving in 2000 after successfully completing the CMAS P* course. Since 2003, he has been cooperating with our RAY DIVING Company.
Between 2003 - 2006, he was working for the whole season in our Croatian diving centre as a divemaster. Tomáš has rich experiences with both guiding and organizing diving trip and with teaching at all levels of diving qualifications. Tomáš is known for his calm and patient teaching approach to beginning divers.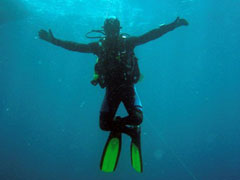 ---