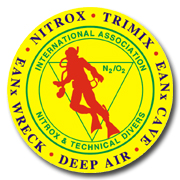 The
Ray Diving
offers diving courses within the system of the IANTD international diving school education with the following qualifications:
---
The course is designed for participants from 12 to 16 years old, who can only dive under the supervision of an instructor or their parents. The course content is the same as for the following course, Open Water Diver.
This is the basic diving course for scuba diving to maximum depth of 18 metres. The course consists of 10 hours of theoretical education, 4 hours of practical training in the swimming pool and 4 dives in open water.
---
(price of the course includes study materials, complete set of diving equipment throughout the course, swimming pool entry fee, international certificate, 4 dives in open water)
The course is designed for advanced divers. It improves and extends basic diving knowledge and skills and follows directly after the OWD course. The course contents theoretical class-room preparation and practical open water dives with selectable specializations.
The most popular specializations are:
Boat Diving
Deep Diving
Night Diving
Wreck Diving
Navigation
The prerequisite for the AOWD course is the OWD.
The prerequisite for this course is the OWD. Diving with the Nitrox mixture is safer, enables a longer bottom time and decreases fatigue after the dives.
Rescue Diver is designed for experienced divers wishing to know how to proficiently offer first aid under water, during surfacing, on the water surface and on the ground. The course contents of a theoretical part - 5 hours with a medical doctor specialized in diving medicine, and from a practical part - 7 hours with an experienced instructor.
This course serves to gain the highest qualification in recreational diving and simultaneously, it may be the first step to start a career as an instructor. The course contents of 5 hours of theoretical education and a 2-days practical part in open water.
The prerequisite for this course is the Rescue Diver and 100 logged dives.